About Inspired Living Chiropractic
Our Mission for Optimal Health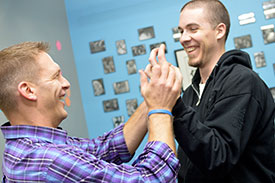 Since 2004, Dr. Dustin Behn has worked to change the lives and health of the community through integrity, education and empowerment for the journey of obtaining optimal health.
Dr. Dustin can meet the health needs of your entire family and has taken specific training pertaining to pediatric chiropractic and care for expectant mothers. The welcoming atmosphere of Inspired Living Chiropractic invites children and their families to embark on a lifetime journey towards health and wellness.
Empowering Individuals
"There is nothing that drives me more than to see people living unconsciously through what they eat, what they say and what they do. My job is to open up their eyes and help them see what's possible."
Dr. Dustin wholeheartedly believes that life is about feeling inspired, not run down by our many daily stresses. Addressing health problems that have a negative impact on your life is important to your overall well-being. Dr. Dustin explains the nervous system controls everything; if it's not working properly, you can't function optimally. By elevating the nervous system, your entire life improves.
Expert, Compassionate Health Care
We consider our practice members a part of our extended family and therefore you will be treated with the same love, respect and honesty that we would give to them.
Dr. Dustin's numerous hours of studying wellness and peak performance has enabled him to develop a system to assist families in restoring and elevating their current health status, without the use of drugs or surgery.
Common areas of improvement our patients see include:
A better quality of life
Improved flexibility
Sick less often
Better posture
More energy
Better sleep
Your health is in your hands.
Contact Inspired Living Chiropractic today to find out how we can help you to live an inspired and healthy life. (319) 827-2045